Joan Fritz
Email Address
Joan Fritz, Scheduler joined our team in 2009. She has a BS in Retailing with a double minor in Business and Spanish from the University of Illinois, Champaign, Ill.
How she arrived at CQ:
"While home raising kids, I had taken ASL classes at the SRJC. Had no real goal in mind, I just wanted to learn the language and know more about the culture. When the opportunity presented itself to apply for a part time job at Communique, I was thrilled and jumped at the chance."
Her favorite part of working with CQ:
"I love the people I work with - clients, customers, interpreters and staff. And I like being able to work part time, which provides much-needed balance in my life."
And a little bit of history:
The three best jobs she ever had were as a cake decorator through high school and college summers. "FUN! We fueled the long hours with doughnuts and chocolate milk." She also worked in Purchasing at Apple in the late 80s/early 90s. "Unfortunately before iPods, iPads and iPhones; but still when they were big enough to provide lots of morale and team building fun." And . . . "my job at CQ, of course!"
In her free time, she likes to travel and explore local sights with her husband, do Zumba, walk her dog around Spring Lake (and play Guitar Hero on PS2!). She is most proud of her family. She says "[I have] a wonderful husband, three kind-hearted, hilarious boys and a brand new daughter-in-law. I count my lucky stars."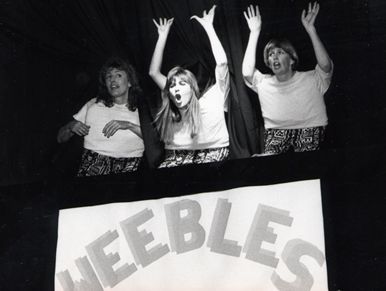 "My friends and I won a talent show at work about 25 years ago. We named our group The Weebles, and if you can believe it, lip-synched in front of hundreds of people. I don't recall if there was an actual prize or not. But the real prize, besides not getting booed off the stage, was having the memory to laugh about decades later."