Kathy Jones
Kathy Jones, Scheduler/Interpreter joined our team in 2012. She has an AA in ASL/English Interpreter Education. She also has done coursework in American History and Interior Design. Currently she is studying Deaf/Blind interpreting. She also works as a cake maker/decorator and has been a facial tattoo artist (permanent makeup). In addition to these many talents Kathy is an event (weddings/birthdays) planner. And last, but certainly not least, she has raised four wonderful kids.
And on a personal note:
What brings Kathy joy is gardening, hosting dinner parties, reading and spending time with family, dogs and friends.
Her guilty pleasures include sitting in a dark theatre watching a movie. In that movie seat she says "I forget the laundry I need to fold at home and just enjoy two hours of sitting in an air-conditioned room, eating popcorn and being transported into the movie."
In her own words:
"CQ is one of the most ethical, progressive places I have ever worked. For me, wanting to gain more experience after graduating from the Interpreter Training Program at SRJC, CQ seemed like the natural place to keep learning as I work towards full certification as an ASL interpreter. I have always had a love for the language and a fondness for the community and I hope to be more into the community more and more. I have made lifetime friends there."
And a little bit of history:
Twice in her life Kathy won best costume at Halloween for her witchy costumes, first at 17, then at 30. The downside is that she made children cry and as a result she gave up the witch attire.
Kathy went back to school after her children were nearly grown and that she graduated with the Dean's Highest Honors from Santa Rosa Junior College. She admits she was tempted to give up a couple of times but is very happy that she stuck it out to set an example for her children, that is she can complete a degree in higher education, so can they. Kathy feels very blessed with her marriage of nearly 38 years and that their kids still enjoy coming home to visit.
The three best jobs she ever had were as a hospital volunteer in high school. She loved that job! During one emergency that she helped with when she was in high school, there were so many people being treated that they lined up in the hallways waiting for the doctors and nurses. She got to take IV readings and get bedpans and ice for the patients, "whatever it took!" She worked all day and when she got home, slept on the floor of her parents' bedroom as she'd seen things that day that most 14 year olds never have. Kathy also enjoyed being a teachers' aid for 11 years at Hidden Valley School in the Deaf/Hard of Hearing department. She loves now running into the children she used to work with and seeing what awesome adults they have become. Kathy says about being a scheduler and interpreter at CQ, "I get to work in many different capacities and get to work with a wide range of people, in and out of the office."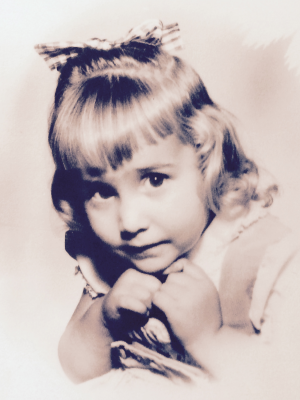 Kathy looking angelic